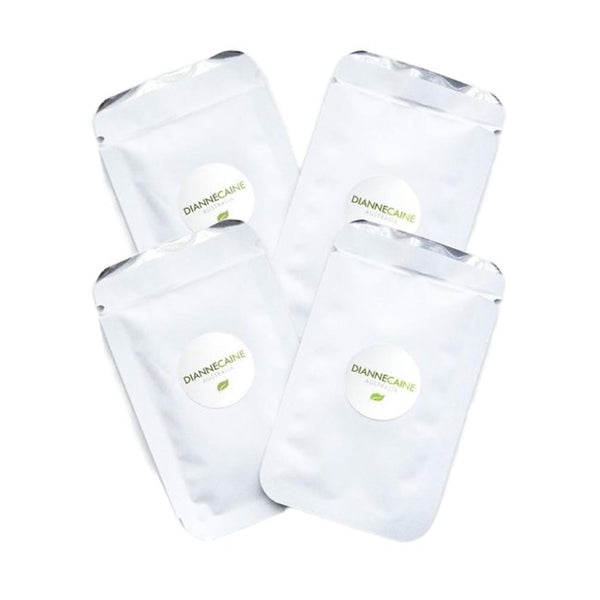 In stock
Others
Dianne Caine
Skin Care Sample Pack
Try Before You Buy – Each pack contains sachet samples of some of our most popular products, from our Skin Care range!

Our Skin Care Sample Pack includes 4 samples (4ml each) of:

Hydrating Rich Cream Cleanser – A rejuvenating formula with soothing Organic Aloe Vera, Jojoba Oil and Cocoa Butter; this luxurious cleanser dissolves dirt, make-up and impurities, whilst nourishing the skin.

Regenerative Facial Polish – An award-winning formula containing finely crushed Argan shells and Jojoba beads that gently exfoliate and remove dirt and impurities to help reveal smoother and refreshed looking skin.

Miracle Marine Mask – An intensely revitalising mineral-rich mask with powerful sea botanicals, which deeply nourishes and regenerates the skin.

Restorative Anti-Ageing Cream – An award-winning high-performance, anti-ageing formula, enriched with Tripeptide 5, Argireline and natural ingredients including Algae Extract, Edelweiss and luxurious Sweet Almond Oil; helps to strengthen and protect cells from pollution, whilst revitalising the skin and providing long-lasting hydration.

Reduced Shipping Rate for Sample Packs:  1-2 Sample Packs $4.50 Express Shipping (not tracked)
Try Before You Buy – Each pack contains sachet samples of some of our most popular products, from our Skin Care range!

Our Skin Care Sample Pack includes 4 samples (4ml each) of:

Hydrating Rich Cream Cleanser – A rejuvenating formula with soothing Organic Aloe Vera, Jojoba Oil and Cocoa Butter; this luxurious cleanser dissolves dirt, make-up and impurities, whilst nourishing the skin.

Regenerative Facial Polish – An award-winning formula containing finely crushed Argan shells and Jojoba beads that gently exfoliate and remove dirt and impurities to help reveal smoother and refreshed looking skin.

Miracle Marine Mask – An intensely revitalising mineral-rich mask with powerful sea botanicals, which deeply nourishes and regenerates the skin.

Restorative Anti-Ageing Cream – An award-winning high-performance, anti-ageing formula, enriched with Tripeptide 5, Argireline and natural ingredients including Algae Extract, Edelweiss and luxurious Sweet Almond Oil; helps to strengthen and protect cells from pollution, whilst revitalising the skin and providing long-lasting hydration.

Reduced Shipping Rate for Sample Packs:  1-2 Sample Packs $4.50 Express Shipping (not tracked)
Happy,Happy,Happy
Since trying Diane Caine skin care I've bought the sample pack so I have them on hand all the time. I spend a few days a fn staying with my daughter and grandchildren. The sizes are very handy and not carrying too much with me.
Love the products so happy I changed ❤️
Beautiful
I'm very impressed with the sample collection and will certainly purchase some products when I have used up my current collection.
Skin Care Sample pack
This little pack is ideal for a weekend, actually for a long weekend. It has 4 wonderful products: a cleanser, Polish, mask and Cream. I'll definitely buy another little pack. It's the perfect travel pack.
Many thanks.
Terrific idea offering samples of your skin care products - trying before buying larger amounts is awesome. Also, these will make fantastic presents - something extra special - for Xmas.
Skin care
Lovely products no breakouts highly recommend